posted by Laura Caywood Barker
Dear Friends,
As we move into October and the promise of cool autumn days, Arizona Public Media (AZPM) is busier than ever.
AZPM is proud to televise the interactive Your Vote 2014 Candidate Forum between incumbent candidate Ron Barber (D) and challenger Martha McSally (R), which will air live October 7, 2014, at 6 p.m. on PBS 6, NPR 89.1 and will be streamed live on www.azpm.org. The hour-long forum will be moderated by AZPM's Christopher Conover and we encourage people to tweet their candidate questions to @AZPMnews #CD2questions.
On October 9, we kick off a radio pledge campaign that will run through October 17. Our goal is to raise $315,000 in public support. We're asking that everyone who listens to NPR 89.1 or Classical 90.5 to step up and support AZPM. Our research shows that just one in 10 listeners actively contributes to AZPM and we want to increase that number. Help us spread the message and turn more of our loyal listeners into members. Everyone shares in the wonderful experience of public radio — now let's all share in the responsibility. Your generous support helps AZPM to continue to bring you quality news and music programming 24 hours a day, seven days a week. When you give, we all gain.
We have several exciting things taking place throughout the month. The second season of the documentary series Makers: Women Who Make America debuted September 30 and will run throughout October each Tuesday at 9 p.m. on PBS 6. Each episode focuses on a different area in which women have trail-blazed and broken through barriers. From the space program to politics to business to entertainment, women have made inroads into professions previously open only to men. This fascinating program chronicles the women who went first.
In mid-October, we wrap up Hispanic Heritage Month with several great programs that highlight the achievements – and challenges – of Hispanic people. One of the highlights is Independent Lens, which shines a light on the issues faced by Latinos. 'The Graduates/Los Graduados,' which airs October 6 and 8 at 2 p.m. on PBS 6, explores issues in education today through the eyes of six Latino and Latina students from across the United States.
Be sure to look for How We Got to Now, a new six-part documentary series hosted by American science author and media theorist Steven Johnson. Each episode explores the power and legacy of great ideas. The first two episodes, 'Clean' and 'Time,' air October 15 at 9 and 10 p.m. on PBS 6.
Looking ahead to November, we're excited to bring you Raptors!, a wonderful new original program produced by AZPM. It premieres November 3 at 10 p.m. on PBS 6.
Once again, I'd like to thank you for your dedication and continued support of AZPM.

Sincerely,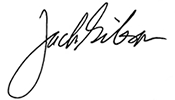 Jack Gibson