EMMA REVISITED
posted by Susie Hernandez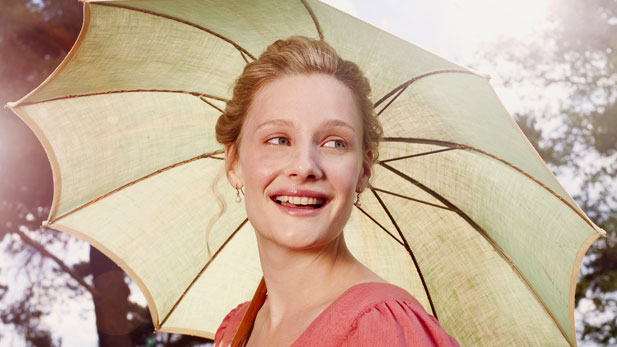 I haven't always loved Masterpiece Theater. It wasn't till a few summers ago, when I was at a national PBS meeting and Masterpiece hosted lunch. They were announcing their new plans for the series. Masterpiece Classic, Contemporary and Mystery were now their own series and MPT Classic was kicking things off with an all Jane Austen season. WOW. I have been hooked ever since.
In January, when MPT Classic announced that a new version of Emma was coming, I was excited. The finale however, was set for February 7th, Superbowl Sunday and figured a Jane fan would be watching the game. Myself and other PBS station programmers across the country feared that folks would miss the finale due to the game. I got special permission from Masterpiece and PBS to air the last two episodes back to back as a 2 hour special one week early so no one would miss a thing.
Recording devices were set but only for one hour so quite a few missed the crucial payoff to all Jane Austen stories--the end! When Superbowl Sunday came, the beers were set down, the dip was put away and our loyal fans tuned in to Masterpiece Theater. Emma was not there. The calls came in. It got ugly!
If you love Jane, then chances are, so do your friends! Folks, I beg you to tell all your friends:
This Friday we are repeating the last two episodes. The finale is here! Emma will air for two blissful hours starting at 9:30 PM, immediately following the new public affairs Need to Know.
Can't get enough of the bachelors of Highbury or the enchanting Emma, played by Romola Garai? Check out Masterpiece Theater's Emma website while watching the finale.