posted by Susie Hernandez
Each year, there are new TV specials, films and songs celebrating the holidays. When you were a kid, what holiday show, song or movie meant the most to you? Ours varied every year! I could never miss the original Miracle on 34th Street with a young Natalie Wood. We also loved holiday music and sang along with Bing. That is until When Grandma Got Run Over by a Reindeer came out--we sang that song over and over again and considered it a "classic" in my house for several holiday seasons. My poor Mom!
I had to tap into those winter-like feelings a few months ago when I started my December TV schedule. It was kind of weird to think of music shows and movies for the holidays when Halloween hadn't started yet!
We are airing loads of holiday type programs this winter but I'm only sharing my faves with you here! There's a great mix of traditional, new stuff and BritCom comedies. Enjoy!
Starting tonight (Wednesday), Dec. 7th and throughout the weekend:
The most gorgeous NATURE of them all airs @ 9:30pm-- Christmas in Yellowstone! It will repeat on Friday, Saturday and Sunday on PBS HD Ch. 6.
Thursday, December 15th: The premiere of Christmas with the Mormon Tabernacle Choir featuring David Archuleta and Michael York airs @ 8pm! For those traditionalists, The Nutcracker, Live from Lincoln Center airs @ 9pm. Check out the preview HERE
Tuesday, December 20th: Celebrating culture! A great night for food, music and giving!
My favorite lady, Lidia B. has a brandnew special called Lidia's Holiday Tables and Traditions that premieres @ 8pm. This is her first special and she is planning on creating more! Check out the preview HERE
The Klezmatics, Cantor Alberto Mizrahi and Mare Winningham among many others perform in Lights Celebrate Hannukkah Live in Concert broadcasts @ 9pm.
Do you find people to be generous and kind? I do!
A thoughtful and uplifting documentary called Passion for Giving airs @ 10pm. I've aired this before and viewer response was great. I think it may be your favorite. Check out the preview HERE
Thursday, December 22nd:
A night of modern and traditional music starts with The National Christmas Tree Lighting @ 8pm, then Jessica Simpson's Happy Christmas Concert airs @ 9pm!
Christmas Day:
For the kiddos, I recommend you turn on PBS KIDS! Check out the schedule HERE
We will have dramas and music on throughout the day, including Downton Abbey @ 8pm! My fave is Masterpiece Classic's Oliver Twist! Part 1 & 2 will air from 2:30- 5:30 pm.
It's a Vicar of Dibley Christmas! Catch the infamous episodes on Xmas Eve and Xmas Night! Not to be missed! Vicar airs right after Annie Get Your Gun on Saturday, and immediately following Downton Abbey on Sunday.
READY TV Austin City Limits is ringing in the New Year with a Coldplay LIVE starting @ 11pm. Folks, I'm not sure there will be a cooler show than Austin City Limits that night. It is the must-see concert!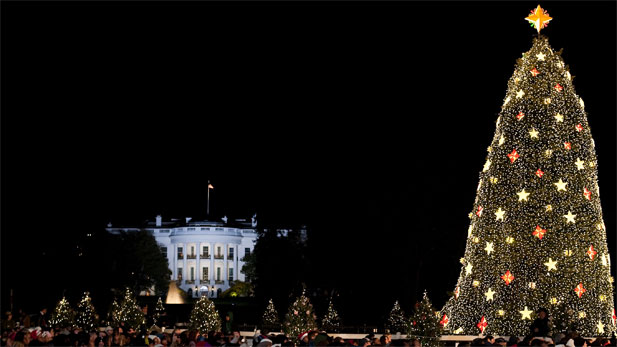 That's my guide. There's more holiday shows airing and I encourage you to check out azpm.org for our schedules.
As always, I appreciate your feedback!
Stay tuned, Susie the TV Programmer