THE KIDS ARE UP AT NIGHT!
posted by Susie Hernandez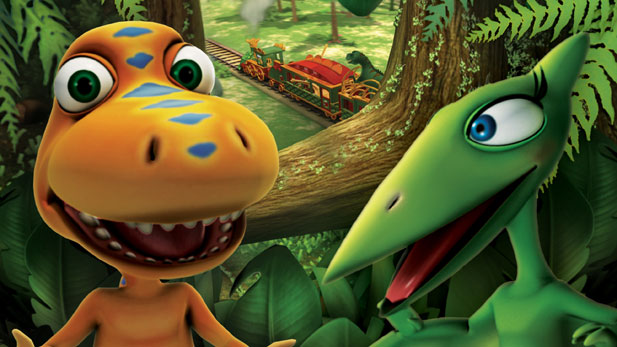 Genius idea--dinosaurs and trains? Wish I had thought of Dinosaur Train!
A viewer recently asked, "One mystery: You have a KIDS channel, 27.2. Why do I have to run into kids programming on 6.1?"
Great question! Why indeed! Well, for one, a lot of folks don't know we have a 24/7 kids channel! The great news is that the word is getting out.
We are one of the few PBS stations in the country that are getting enough viewers on our digital channels that we get ratings reported to us from Nielsen. I can't share with you the data due to Nielsen contractual agreements but will give you an overview. I think you may find this interesting because I know some of you wonder why don't we have more kids programs on PBS-HD and why do we have a 24/7 children's station.
While reviewing the numbers, I looked at the ratings for one of our newest channels, PBS Kids (Ch 27.2) to see where the kiddies were tuning in. In February 2010 we got our first book of ratings. In that first book, the PBS Kids channel got a lot of viewers in the daytime and nowhere else! In May, our second book came in and PBS Kids had a lot of viewership again in the morning and daytime but jumped up from 8 PM to 11PM.
You read this right. In terms of ratings, there are a lot of kids watching our Kids Channel at 10 PM! I'm glad they have this channel to turn to versus the other fare available at 10 PM!
So why even have any children's programming on PBS-HD? In short, PBS HQ requires it. We air just over the minimum requirement and are happy that we are able to provide a 24/7 channel devoted to the best of what public media has to offer on PBS Kids. We also have also loads of episodes and games online.

Last summer I tried two different themes: Armchair Vacation and Armchair Thrillers. Armchair Vacation featured Nature, Globetrekker and other lighter shows that featured an exotic or fun destination. The series aired immediately after Charlie Rose from 2 to 3 PM weekdays. Armchair Thrillers featured mysteries from the BBC. Thrillers picked up where Vacation left off from 2 to 3 PM weekdays.
This summer I kept the popular AZPM "soap opera" Ballykissangel from 2 to 3 PM but had to bring back Armchair Thrillers due to popular response. This meant I had to replace some of the children's programs that normally aired after BallyK with Armchair Thrillers. (Yes, there were some calls from parents!)
Every weekday this summer from 3 to 4 PM sometimes to 4:30 or 5, depending on the length of the mystery, we are airing Armchair Thrillers. We've done it for a few weeks now. If you are watching it, thank you! If you have a child that misses their favorite show, please let me introduce you to a terrific 24/7 PBS Kids channel and our Kids website where loads of videos and games are available anytime. (smile)
So what am I looking forward to this fall in terms of children's programming? Sesame Street has a great season ahead. The Cat in the Hat show featuring the voice talent of Martin Short looks wonderful and a new season of Dinosaur Train is going full steam ahead. What isn't returning? I'm sad to report that Maya and Miguel are not on the national schedule anymore. We will bring it back as an exclusive Kids Channel program in 2011.
As I reviewed the latest from PBS HQ on the new children's programming lineup that will begin this fall, I was combing over our ratings for the kids block on PBS-HD (Ch 6) to see if the shows leaving the schedule were ones dipping in viewership. They were and I'm glad PBS made some adjustments (minor adjustments, I promise!).
Stay tuned,
Susie