posted by Susie Hernandez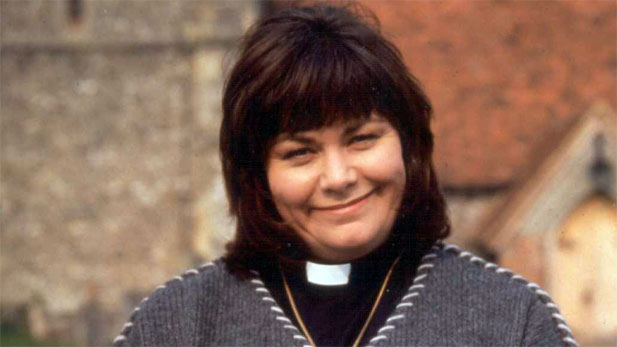 Dawn French is the hilarious Reverend Boadicea Geraldine Granger aka the Vicar of Dibley!
In the summer of 2011, I changed up the BritCom lineups on Saturdays and added some shows on Thursdays. Emails, calls, blog comments and Facebook postings came in droves from viewers. All feedback is valuable to me, but it definitely showed that our viewers' tastes have shifted and are slightly divided!
Hollywood at Home and Doc Martin Fans Rejoiced!
Fans came out of the woodwork when we launched the Hollywood at Home series in Fall 2011 on Saturdays at 9pm. Those films have consistently been our top rated shows in any given sweeps month.
Doc Martin premiered on Thursday, September 20th, 2012 at 9pm after a year of die-hard fans contacting me about bringing it to Southern AZ. Imagine the hurrahs when we found the money in the budget to buy it for AZPM! Staff tell me that people mention their love for Doc Martin to them all the time.
This feedback is significant because viewers rarely contact us because they like something, so when someone takes that time to express love for a show, we know we have a winner. So far, we are happy with the audience numbers (56% more viewers on Thursdays compared to Nov. 2011). We even kept the show on during this past pledge drives and people donated money in honor of Doc!
Now that the Hollywood at Home series has legs on Saturdays, and Doc Martin has spiked up our Thursday nights, it is time to look at what we air before and after.
Let's start with the easier night—Thursdays. A few years ago, PBS had Nature on Sundays and we repeated that show on Thursdays at 8. It worked great. Nature moved to Wednesdays, and suddenly the Thursday repeat didn't make sense. We have been working on that night ever since. Last summer we experimented with dramas and newer comedies on Thursdays starting with some strong Masterpiece episodes that we called The Men of Mystery! The response to certain episodes showed us that people welcomed less traditional dramas. We also aired "saucier" BritComs later on Thursday nights that didn't quite fit on Saturday's lineup with Keeping Up Appearances. The clear fan choices were People Like Us, Worst Week of My Life and Coupling. Outnumbered is a series people either love or hate. The love is pretty strong so we are keeping it on for now and besides, the new season is hilarious!
When appropriate, we will put PBS drama specials leading up to Doc in that 8pm slot like the wildly popular Call the Midwife series. We just launched a new-to-AZPM series from the BBC called Death in Paradise** on Thursday, January 3rd at 8pm, and we hope you check it out if you haven't already! Watch a promo here.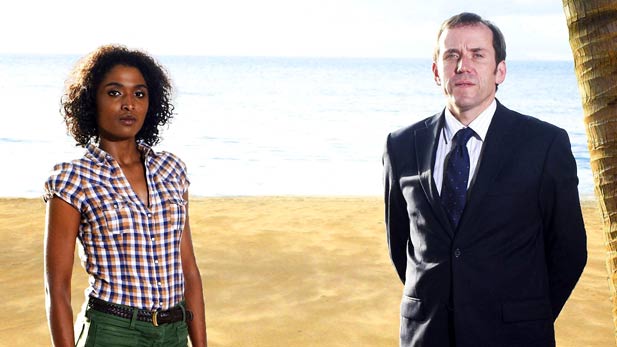 Sara Martins is the Detective Sergeant Camille Bordey and Ben Miller is the Detective Inspector Richard Poole in Death in Paradise.
When the new season of Call the Midwife starts again, we will hold that series for Thursday nights later in the summer.
Okay, I avoided writing about Saturdays long enough. In short, we are looking at bringing back some comedies like Vicar of Dibley and Waiting for God. I will likely phase out Keeping Up Appearances or As Time Goes By with one series, and a few months later, swap out the other. This is to ease the pain of those fans who never want those shows off the air. We learned that after Hollywood at Home, it is too late for folks who love the traditional BritComs. We will continue to air dark comedies like Black Books, Worst Week and the like.
I'd love to try another comedy but it is too early to talk about it! I'm still in "research" mode which really means a weekend on my couch watching TV while avoiding chores.
As always, tell us what you think. We want to know what you are watching, what you miss, what a friend told you about, what you want off the air. And before you say Lawrence Welk, let me say, it's off the table…for now. (smile)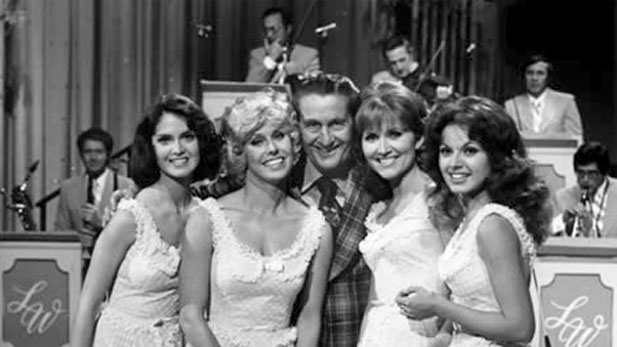 Happy Viewing! Susie the TV Programmer