WE NEED YOU CHARLIE
posted by Susie Hernandez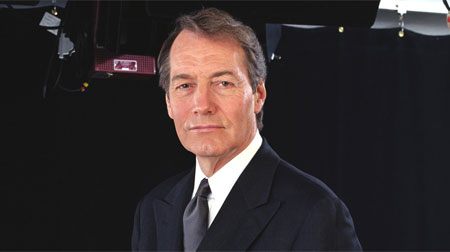 Charlie Rose, acclaimed interviewer and broadcast journalist engages America's best thinkers, writers, politicians, athletes, entertainers, business leaders, scientists and other newsmakers in one-on-one interviews and roundtable discussions.
Bill Buckmaster didn't know at the time he got confirmation from the three Republican candidates running for US Senate that we would get this kind of exposure for a debate. We were one of two debates these candidates agreed to. Buckmaster continues to get interviews and will host debates up till Election Day. This interest in public affairs and the election is great for me as we dive into a new public affairs strategy on PBS HD CH. 6 and World (Ch. 27.3).
Starting in August, public affairs on PBS HD CH. 6 will begin weeknights at 4 PM. As reported in a previous Inside TV blog, we are moving away from children's shows in the afternoons and early evenings. Charlie Rose will be welcomed into the public affairs block as he moves from 1 PM to 5 PM.
Here's our new public affairs lineup on PBS HD CH. 6: 4:00 PM PBS Newshour (east coast version)
5:00 PM Charlie Rose
6:00 PM Nightly Business Report
6:30 PM Arizona Illustrated
7:00 PM PBS Newshour (west coast version)
On Fridays, we will continue to air Washington Week with Gwen Ifill at 8 PM. She just started tweeting, by the way! Follow her @pbsgwen. PBS Need to Know will continue to air at 8:30 PM.

On the World Channel, nightly public affairs will continue to be prominently featured in the schedule and I'm reviewing more shows to consider to air on weeknights.
Currently, the public affairs block on World has:
8 PM PBS Newshour (west coast version)
9 PM Arizona Illustrated
9:30 Journal
Starting in September the lineup will be:
8 PM PBS Newshour
9 PM Arizona Illustrated
9:30 PM BBC News
10 PM Charlie Rose
11 PM Journal
11:30 PM Nightly Business Report
I think these new public affairs scheduling on Ch. 6 and World will pair nicely. With so many hours and shows to choose from, you decide on when and what you want to watch. In-depth news and information will be available to you on KUAZ, online on azpm.org, PBS HD CH. 6 and World.
I'm thrilled to have Charlie on at 5 PM and the only thing that would make our block complete is having Bill Moyers back. But please, don't get me started on Bill. I miss him so!
Stay tuned!
Susie
P. S. As debates and interviews get scheduled on Arizona Illustrated, you will be able to find them at the AZPM Election 2010 Dashboard. Personally, as a newbie to Arizona, I'm excited that the online guys here created this feature. I review it quite a bit.
P.P.S. Are you or someone you know a diehard 1 PM Charlie Rose viewer? Don't fret! He is on at 1 PM on the World Channel!