LAST OF THE ARMCHAIR THRILLERS
posted by Susie Hernandez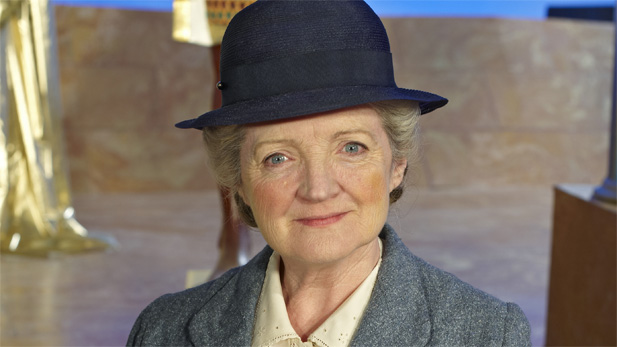 Miss Marple kicked off the Armchair Thrillers series this summer. Sherlock Holmes wraps up the series this week! Then comes the real mystery...what is happening this fall?
The last week of August marks the end of the Armchair Thrillers that aired all summer weekdays following Ballykissangel. We would love to know which thrillers were your favorites so we can bring more of the same next summer.
This coming weekend also marks the end of the summertime Saturday Night lineup. Did you enjoy MI-5? We hope many of you discovered a new show to love. As promised, we are bringing back some beloved BritComs (British Comedies) and introducing you to some new programs.
First, let me go over the daytime lineup starting Monday, September 13th. The mystery of what's replacing the Armchair Thrillers each day is now revealed!
@ 1 PM --Ballykissangel (aka BallyK).
@ 2 PM --Lark Rise to Candleford! Program Notes: The series is a costume drama set based on Flora Thompson's semi-autobiographical novels. Set in the small Oxfordshire hamlet of Lark Rise and the wealthier neighboring market town of Candleford towards the end of the 19th century. (In Season Two, episode 17, the date carved on the new clock tower in Candleford is 1895.) The series chronicles the daily lives of farm workers, craftsmen, and gentry, observing the characters in loving, boisterous, and competing communities of families, rivals, friends, and neighbors. The narrative is seen through the eyes of a teenage girl, Laura Timmins (Olivia Hallinan), as she leaves Lark Rise to start a new life under the wing of her cousin, the independent and effervescent Dorcas Lane (Julia Sawalha), who is Post Mistress at the local Post Office in Candleford. Through these two characters, viewers experience the force of friendship as Laura and Dorcas see each other through the best and worst of times.
@ 3 PM --Are You Being Served?. Are You...? is no longer on Saturday nights but we were able to acquire it for daytime broadcasts only.
@ 3:30 PM --One Foot in the Grave! Program Notes: The BBC sitcom series features the exploits of Victor Meldrew (Richard Wilson), and his long-suffering wife, Margaret, (Annette Crosbie), in their battle against the trials of modern life. After being forced to take involuntary early retirement, the series followed Victor's various efforts to keep himself busy, whilst encountering various misfortunes and misunderstandings. The series was set in a typical suburban household in a suburb of London based on Luton (although was largely filmed on location in Dorset). However, despite its traditional production, the series subverts its domestic sitcom setting with elements of black humor and surrealism.
So there's the daytime lineup!
As part of my job, I watch a lot of programs throughout my day. Despite the hours of viewing every week, would it surprise you to know I watch a lot of TV when I get home? I loved the Saturday night lineup this summer and will definitely consider changing it up for next summer!
Starting September 18th, here's what's going on this fall for Saturday Night:
@ 8 PM --Keeping Up Appearances. Folks, I'm thinking of putting this one on the shelf. Thoughts? The show is up for contract. What to put at the beloved 8 PM slot? I expect many colleagues to come to my office about this idea. Everyone loves Keeping Up Appearances!
@ 8:30 PM --As Time Goes By. We have a few more plays before the contract is up.
@ 9 PM --Monarch of the Glen. Folks liked the earlier timeslot! I'm keeping it there.
@ 9:50 PM --After You've Gone! Immediately following Monarch of the Glen we will be premiering this new comedy! Program Notes: Starring Nicholas Lyndhurst, Celia Imrie, Dani Harmer and Ryan Sampson, After You've Gone was created by Fred Barron, who also created My Family. When his former wife Ann goes to Africa to help out following a natural disaster, Jimmy Venables, a handyman, has to move back into the marital home to look after his two children, Molly and Alex. Jimmy's opinionated widowed former mother-in-law Diana Neal, who has always disliked Jimmy, decides to help him out.
@ 10:30 PM --The saucy Vicar of Dibley! Tell all your pals! The Vicar is back after a long hiatus!
What's new with Sunday?
@ 8 PM --Masterpiece Theater.
@ 9:30 PM --Sherlock Holmes. (Sometimes early or late depending on Masterpiece's length)
@ 10:20 PM --MI-5! Immediately following Sherlock Holmes, typically MI-5 will air at 10:20 PM.
@ 11:30 PM --After You've Gone. The repeat allows Sunday night viewers a chance to catch it and those who missed the Saturday broadcast a chance too!
At midnight there will be an encore of MI-5!
Have you ever wondered why we air things at 10:20 or 9:50?
Most US produced shows are very close to one hour for PBS. The BBC generally has shows a little shorter which means we have to fill in the time. A 9:50 start time for a show means we scheduled a program to air immediately following another program with no breaks. As you know, we don't have commercials but we do have short promo breaks informing you of shows airing next week or a PBS spot we typically have to air. We sometimes omit these breaks in order to capture the viewer watching the show that just ended.
In the case of Sherlock Holmes, many of those viewers may not know of MI-5. If we air five or eight minutes of promotions, thank you's, etc in between Sherlock and MI-5 to round out the start time, those Sherlock viewers may turn away and miss one of the best drama spy shows currently on TV (in my opinion).
It's easier to remember that a show starts at the top of the hour or at the half hour mark, and it looks nicer on a TV schedule. It's a rarity that we will start a show at an odd time. Now you know why we would do such a thing!
As always, I welcome your questions and comments. I may just write a blog about it!
Stay tuned,
Susie the TV Programmer