THE MEN OF MYSTERY!
posted by Susie Hernandez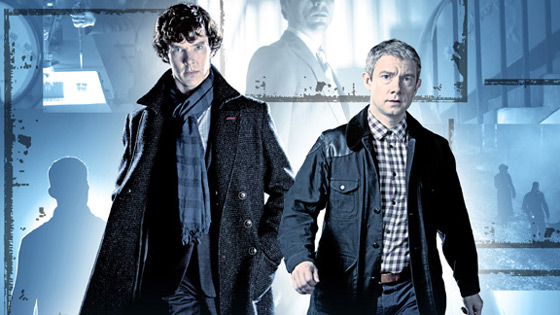 As the AZPM TV programmer, I often get DVD's of popout series months in advance. Every so often, I hold back on previewing the series early because I want to enjoy it along with our viewers! Can you believe that I withheld from watching Sherlock? I can't wait for Sundays @8pm!
That doesn't mean that the DVD's just sit in my office. It took only four hours for volunteer Rikki M. to be on a couch with a friend enjoying the new season of Sherlock from the time it landed on my desk.
Here's her review:
"As a former employee and current volunteer of Arizona Public Media, I believed few people were as excited about the new season of Sherlock as I (now I know that my enthusiasm is matched by MANY others all over the world). Through a series of complicated dealings in dark alleys and emails, a friend and I were able to procure an advance copy of the new season one evening at 7pm. The only caveat was that the DVD must be returned the next morning. Watch three 90-minute episodes of Sherlock overnight? Challenge accepted!
Episode one stars Lara Pulver as Sherlock's temptress Irene Adler in A Scandal in Belgravia. The sexual tension throughout this episode between the two geniuses was wonderful and as always, the reminder of Holmes' mental abilities was a pleasure to watch. Though personally, I think that my favorite part was the suggestion that perhaps Watson might be a tiny bit jealous of Holmes' relationship with the social dominatrix.
The second episode, The Hounds of Baskerville, was kind of a nice departure from the intensity of the previous episode. Holmes and Watson head out to the moors to find out the truth surrounding the rumors that a gigantic hound is stalking its territory. There were a couple moments of genuine suspense. That being said, it did drag a bit at points and I'm not a huge fan of a hint of the supernatural in the super logical world of Sherlock Holmes. Nevertheless, I am a self-disclosed Cumberholic, so I will forgive this trespass.
I think it is a terrible crime that they only see fit to create three episodes a season. However, if you are only going to create three episodes, you better make the last one worth it. The Reichenbach Fall is worth at least five episodes of another series. Andrew Scott as Jim Moriarty is both insanely creepy and charmingly sincere in his ability to challenge Holmes to solve the "final problem." I don't want to say anything else about this episode because any fan will want to go in to this one blind.
Overall, I loved Season 2 of Sherlock. The writing, acting, and the cinematography make each episode feel like a short movie that I didn't want to end. I hope you enjoy it as much as I did. Thanks so much to Arizona Public Media for giving me a chance to preview this wonderful program!"
--Rikki Mioduski, Volunteer Social Media Manager and former AZPM staffer
You are very welcome, Rikki! The perks of volunteering!
In anticipation of seeing Sherlock and Watson, a lovely, dysfunctional duo, I looked over the Mystery! films and came up with a great lineup from the AZPM vaults. Why not dedicate a month to the Men of Mystery?
Only on PBS HD 6 will you see Poirot, Foyle, Zen, Lewis (Hathaway!), and Wallander in one month! These cunning, calculating, charming and dangerous risk takers will take their turns every Thursday @ 8pm for your viewing pleasure. I've got my opinions as to who the charmers are. See below for the episodes and airdates!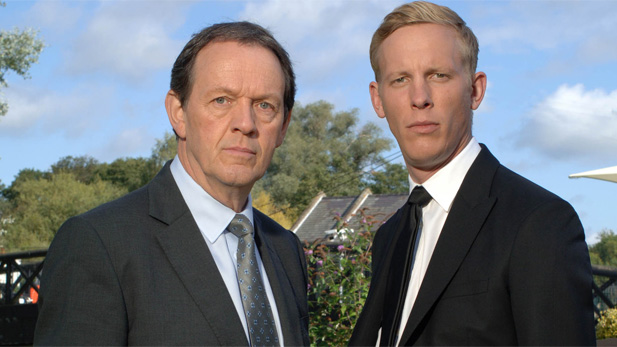 The Men of Mystery! Schedule: Thursdays @ 8pm
--May 3rd: Poirot Mrs McGinty's Dead Check out the preview here
--May 10th: Foyle's War Broken Souls Check out the preview here
--May 17th: Zen: Cabal Check out the preview here
--May 24th: Inspector LewisYour Sudden Death Question Check out the preview here
--May 31st: Wallander Faceless Killers Check out the preview here
The Sherlock schedule: Sundays @ 8pm
6th: Sherlock, Series II: A Scandal in Belgravia
13th: Sherlock, Series II: The Hounds of Baskerville
20th: Sherlock, Series II: The Reichenbach Fall
Check out the new series website for previews and interviews! Click here
Happy Viewing! Please share your favorites with me!

Stay tuned, Susie the TV Programmer