posted by Laura McKee
Dear friends,
In these first days of our new fiscal year, I'd like to update you on several projects, and to thank you for your outstanding support of public media from The University of Arizona.
Strategic Plan On Thursday, May 6th the Community Advisory Board (CAB) voted to endorse the framework of our new strategic plan. The planning process included an assessment of where we are now, where we plan to be in 2015, and detailed steps we'll take over the next 18 months to get us moving in the right direction with greater focus and potentially, greater results. Nearly 30 percent of our staff, across all levels -- are involved with developing the plan that is the direct output of our CAB Strategic Planning sessions.
TV ratings The May Nielsen ratings indicated that the Prime Time audience totals for Channel 6 were unchanged from May 2009. Good news in a highly competitive media environment. Prime Time viewing frequency on the other hand increased by 7% overall, with Friday night experiencing the largest growth at +119% over Friday night last May. It looks like Create and PBS Kids continue to lead the pack in our digital multicast channel lineup, after PBS-HD. I am very proud of our recent efforts to provide gavel-to-gavel coverage of the Kagan Confirmation Hearings with Live and encore presentations on PBS World and daily wrap up programs on Channel 6 and KUAZ.
A new website and PlayPBS The online and new media team has re-launched AZpublicmedia.org with better navigation and more opportunity for visitor involvement. PlayPBS as I hope you already know, launched earlier this year providing full-length programs from PBS and AZPM.
Membership funding I hope many of you have seen or heard the terrific spots featuring community volunteers encouraging viewers and listeners to help AZPM reach its fiscal year-end goal. I am pleased to report that we met and surpassed our FY'10 membership revenue target thanks in no small part to these volunteers and the thousands of families who annually provide financial support to this enterprise.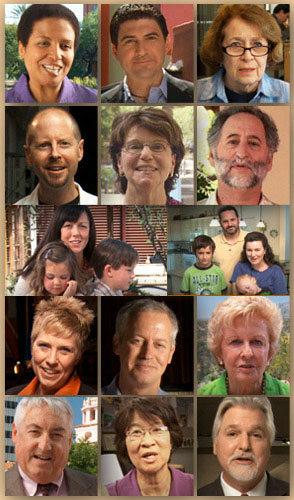 With gratitude Thank you for your continued support of AZPM. We are all here because we believe in the power of public media to make a difference in our community. It is evident in the work that we do to produce meaningful programs from right here in Tucson and in the audience growth that we continue to experience on all our stations.
Candidly, our work would not be possible without you. I want you to know how much I appreciate your continued support of AZPM as we begin our journey into FY'11.
Have a great summer!
Jack Gibson