THE PREMIERE OF ARIZONA ILLUSTRATED WITH HOST TOM MCNAMARA AND SPECIAL HISPANIC HERITAGE MONTH PROGRAMS
posted by Laura Caywood Barker
Dear Friends,
For more than 30 years, Arizona Illustrated has been the Arizona Public Media (AZPM) flagship locally-produced television program on PBS 6. A reimagined version of the 30-minute, magazine-style program will premiere in its new first-airing time slot on Sunday, September 7 at 6:30 p.m. on PBS 6, with encore broadcasts at various times throughout the following week. Arizona Illustrated continues its legacy of engaging southern Arizonans with thought-provoking, diverse stories that reflect our community. Hosted by veteran broadcast journalist Tom McNamara, the new Arizona Illustrated will examine untold stories that are universal, yet have local relevance, and will challenge old notions while introducing you to people who make Arizona unique and vibrant. You can watch upcoming stories in advance of their broadcasts or view entire shows online at originals.azpm.org/arizonaillustrated/.
We just completed the August PBS 6 membership campaign and I thank all who contributed for your outstanding support. With your generous help, AZPM raised $221,637, an increase of eight percent over last summer's campaign. On-air membership campaigns and other fundraising initiatives allow us to provide you with the award-winning local and national programs that you rely upon and enjoy.
In September we begin our celebration of Hispanic Heritage Month (September 15 – October 15) with special programs on PBS 6, World, Vme, the UA Channel and NPR 89.1. From history to performing arts to independent film, AZPM offers viewers and listeners the opportunity to explore the rich, vibrant history and cultural contributions of Hispanic Americans. TV Program highlights include Latino Americans, Life on the Line: Coming of Age between Nations, and Independent Lens: The Undocumented. On NPR 89.1, Hispanic Heritage Month specials will include Radio Ambulante: Stories from Latin America. Look here for complete program schedules.
Other PBS 6 program highlights this month include the premiere of the new Ken Burns' documentary "The Roosevelts: An Intimate History" starting Sunday, September 14, and running through Saturday, September 20, nightly at 8. The series explores the stories of Theodore, Franklin and Eleanor Roosevelt, three members of one of the most prominent and influential families in American politics. Also, tune in to PBS 6 on Sunday, September 14, at 6:30 p.m. to meet Nina Roosevelt Gibson, granddaughter of Eleanor Roosevelt, now a resident of Vail, Arizona, as she shares her "growing up Roosevelt" stories on Arizona Illustrated. Watch a preview of Nina's stories here and a preview of "The Roosevelts: An Intimate History" here.
In September we also welcome several new staff members. Romi Wittman is AZPM's new Chief Communications and Marketing Officer. She joins us from Trico Electric Cooperative where she was Director of Marketing and Communications. Jennifer Cannon is a new Account Executive in the Underwriting Department. Andy Bade, an AZPM radio host since 2008, has filled the Classical Music Program Coordinator position for Classical 90.5, on which he will also serve as the weekday afternoon host. We welcome, too, A.C. Swedbergh, who recently joined AZPM as its Web Site Designer/Developer.
In addition, AZPM recognizes and welcomes a number of new Community Advisory Board members: Laura Todd Johnson, Vice President for Legal Affairs and General Counsel at the University of Arizona (Ex-officio); Tony Vuturo, M.D., Senior VP of Canyon Ranch Resorts; Lois Eisenstein, Attorney (retired); and UA student representative, Issac Ortega, ASUA Student Body President. On behalf of all of us at AZPM, thank you for your viewership, your listenership, and your continued support.

Sincerely,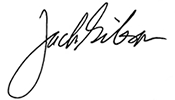 Jack Gibson