posted by Susie Hernandez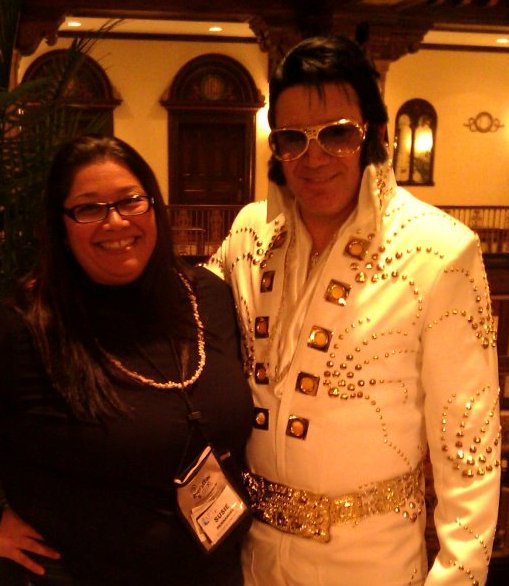 Every November, pub TV programmers attend the American Public Television (APT) Fall Marketplace. It is at this conference that Desert Speaks, Globetrekker and Bill Moyers present their new season, amongst many other great shows. Programmers watch and later vote on what they would like offered nationally.
So, what where my goals for this trip, besides voting?
Find Elvis! Goal #1 accomplished!
Find new programs for Ready TV and Ch. 6 schedules. Two down, 2 more to go! My favorite ongoing shows were here. I saw clips from the new season of Globetrekker, Rick Steves, Vine Talk, Nick Stellino, and P. Allen Smith from Garden to Table. They are all coming to Southern Arizona in 2012.
By the way, P. Allen Smith and I had a long chat about a coming to Tucson and focusing on farming practices and gardening techniques in the Southwest. If anyone has leads on who we should talk to about getting him to town, let me know.
The World Channel showed us some of their new original documentaries coming this Winter and Spring and they looked powerful. I also found out that unfortunately, our free ride is over. The World Channel will now cost money to air!
A great new documentary was offered with an interesting title—World Peace and Other 4th Grade Achievements. The film is about a remarkable teacher named John Hunter and his World Peace Game. John is an award-winning teacher, a 2011 TED Conference speaker and educational consultant. He was our keynote speaker on our last day, and I must admit that I got very emotional from his speech. When an educator talks passionately about students and actions they took to help a student, I can't help but think of the few but monumental teachers I have had in my life. I know that the impact may or may not have been noted by that student at that time, but they will later. My mother was an educator and teachers hold a special place in my heart. Check out the trailer here.
Goal #3: Have a chat with Bill Moyers. DONE! I got a lot of emails and calls from angry viewers who thought I took Bill Moyers off the air over a year ago. I hope you all know that Mr. Moyers retired. This summer I started to get numerous calls and emails demanding I put him back on ASAP. They wondered why I wasn't airing his new show! Was he back? How did my viewers know and I didn't? I guess more than a few folks follow his blog (smile) and read that he was working on producing a new show. He's back? He's back! Until I spoke to Bill Moyers about his new series and his return, I wasn't sure where and when Moyers & Company was coming to air in Southern Arizona. He presented his new series at the conference that is set to launch in January. To see his trailer, check out Bill's website. Broadcast information will be available on azpm.org and AZPM's Facebook page once it is final.
Bill was the keynote speaker for our first day at the meeting. AZPM's priority is public affairs and news, giving our community the tools needed to make informed decisions about how they want things run. I would love to have Bill in town, as I think our community, and UA Journalism students would find great value in what he sees ahead. "There is a deepening crisis of hope in America...real news keeps our freedoms."
Goal #4 was to watch for one last time, our new and final season of Desert Speaks get offered nationally. Congratulations to the AZPM production team, especially Tom Kleespie who has been the Sr. Producer on the series for several years, as it was well received! Tom has moved on to his next AZPM production, a project we hope we can get funding to make a full series and have for many years.

I returned from Memphis in hopes that my budget was going to be increased. No such luck! Friends, I hate shopping except when it comes to TV programs! Between the stellar BBC Conference in October and APT in November, I test the boundaries of my budget.
For those of you who are members, I thank you for allowing AZPM the chance to offer Desert Speaks one last time at the APT marketplace. Your member dollars helped us produce that show for all these years. I am also appreciative that I can bring home programs like the Hollywood at Home series, This Old House, Rick Steves, and many of the great cooking shows APT offers. I hope you donate like a fan, and watch as a donor because there's so much to be proud of!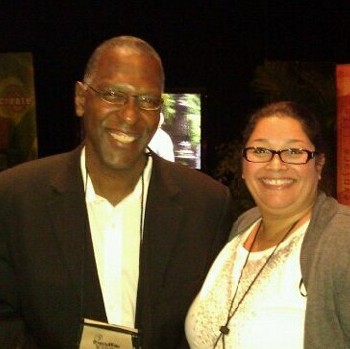 John Hunter, teacher and subject of World Peace and other 4th Grade Achievements documentary.
Stay tuned,
Susie the TV Programmer