SUMMER SCHEDULE LINEUP
posted by Susie Hernandez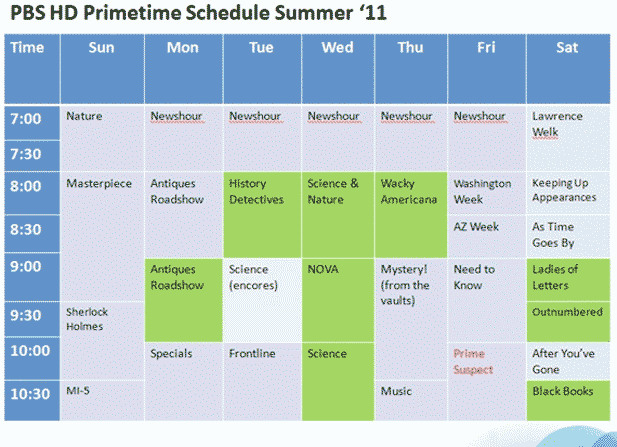 We are taking a break from the dramas of Glenbogle after June 18th! Monarch of the Glen goes on a short hiatus and will return to our weekday drama lineup after Ballykissangel has its run weekdays at 2 p.m.
I thought our dear fans would like to see a snapshot of our new 2011 Summer PBS HD Schedule! The items in green are changes to the lineup. Some of these changes are driven by PBS HQ and some are new shows we have special for the summer months!
Mondays: I was thrilled to see an additional hour of Antiques Roadshow provided by PBS. I get a lot of viewer calls asking for more ARS and with the new pairings, I'm anxious to see if folks really watch more than 1 hour!
Tuesdays: History Detectives starts their new season on a new night! The series used to air on Mondays at 9 p.m. The logic is that on a different night, at an earlier time, more folks will watch this fun program now that it will air on Tuesdays at 8 p.m.!
Wednesdays: You may have noticed that the "Smartest Night on TV" is branded for Wednesday nights! We've been airing NOVA Science Now and NOVA on Wednesdays for the past few months and Southern Arizona fans love the entire night. PBS will be offering Nature at 8 p.m. after Secrets of the Dead goes away. NOVA Science Now will repeat later in the evening over the summer. I will continue to air Nature on Sundays. Eventually, I may move Nature to 6 p.m. vs. 7 p.m. on Sunday nights.
Thursdays: Just what is "Wacky Americana?" I'll tell you! They are funny, sweet, and touching documentaries by Ric Sebak. Some of the titles include The Hot Dog Show, Breakfast Special, and The Ice Cream Show. So, I guess I should add tasty to the list? You just have to watch at 8 p.m. to see what other wacky americana will be featured!
Fridays: Why is Prime Suspect in red? Good question. You noticed that, huh? (smile) Well, I may have to move it and I'm not sure when or where. The show is definitely airing through July but I may have some new music shows coming from PBS designated to Friday nights. Prime Suspect might move to Sunday or Thursday nights.
Saturdays: There's a lot of green there. Folks are always asking for new BritComs but don't want me to get rid of any of their standbys like Keeping Up Appearances, Monarch of the Glen, and As Time Goes By. I definitely want to keep Monarch of the Glen but feel it will be better served in the afternoons. I hope you all give Outnumbered, Ladies of Letters and Black Books your time! Like most BritComs, they require a few viewings before the writers and actors warm up and deliver some of the most hilarious moments on television.
Well, there you have it! Please let me know what you think!
Stay tuned!
Susie the TV Programmer