posted by Susie Hernandez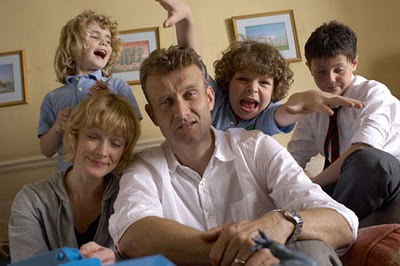 Our most controversial acquisition in quite some time wasn't Nazi Hunters (May 2011) or The Royal Wedding (April 2011), but a little BBC series called Outnumbered. This comedy premiered this summer on Saturday nights at 9:30 PM.
Feedback is crucial as are Nielsen ratings. AZPM does not get TV ratings every night, but only 4 times a year so we put a lot of weight on calls and emails. I often remind the person on the other end of the call or email that they should tell me what they like in addition to what they don't. All feedback is important.
Every summer, I change up the lineup and test out new shows with our diehard Southern Arizonans. Last year we tested out daytime scheduling shifts with Armchair Thrillers and Armchair Vacations. Sherlock Holmes, Mystery! and Nature allowed me to test out viewership without children's programming and that is how Ballykissangel and Lark Rise to Candleford came to air on PBS HD in the late afternoons. We wanted to see if we gave adults an alternative to soap operas, court shows and talk shows, if they would watch PBS. The response was good and I got to trim children's programming from CH. 6 and steered those kiddos to our 24/7 PBS KIDS channel. Win-win-win!
Back to Saturday night:
Why do some shows stay and some get bumped?
It is surprising to many of my regulars who write in that folks still adore Keeping Up Appearances (8 PM) and that it is consistently our #1 or #2 show every rating period. I get many emails begging me to take it off and I gently explain that it will not. I know I just said that viewer feedback is important, but I should tell you it is the same small group that writes in. They write in a lot! It's well loved and the numbers prove it.
As Time Goes By is also well loved, but eventually, I need to return some other favorites and that timeslot (8:30 PM) is perfect! Sometime next year I'd love to have Waiting for God back and it needs an early slot vs. late slot! With limited hours available, some shows will leave in order for others to return.
Monarch of the Glen went out of rights, as did Vicar of Dibley. What this means is that I aired the series straight through and we used up all the releases the BBC would allow. I need to wait for Vicar, but Monarch was secured for daytime broadcasts! It will start airing in October, exact date to be announced!
What replaced Monarch on Saturday nights was Ladies of Letters (9 PM) and Outnumbered (9:30 PM). The Monday after the new lineup aired, the front desk spent the morning listening to voicemails and forwarded emails to me. The calls and emails were all over the place. I can't repost them here as I don't have permission from the viewers and some of them need editing! Some folks cursed, some congratulated, some were love letters, and some were pages of passionate pleas for and against the new shows. It could be it's own blog post! (smile) The top target was Outnumbered.
I have no idea why this show has hit a chord. Is it because it is so totally different than Monarch of the Glen? Is it the parenting that hits a little too close to home? People loved that the characters were younger than Keeping Up Appearances. Some thought it was too modern. I would love to get these viewers together to discuss the pros and cons of the new shows. If you haven't seen it yet, please do and write in! If you have, please comment so we can all read your thoughts!
Ladies of Letters is well liked, but certainly not loved. Like most BBC comedies, the series needs a few episodes under their belt before people start calling in to tell me they love it. I'm starting to get those kind of calls for Ladies but only just recently.
I thought for sure I'd get more calls on Black Books but so far, hardly a peep. If you are not familiar with this show, it's quite quirky. The show is set in a London bookshop called "Black Books" and follows the lives of its hostile and belligerent owner Bernard Black, his enthusiastic assistant and their neurotic friend and shop neighbor, Fran. I watch it every Saturday night as it airs and listen to my spouse laugh. It airs at 10:30 PM immediately following After You've Gone. I have a feeling people like both of these shows but are too tired to call me or email me to let me know. I would think that a viewer on a Saturday night at 11 PM has other plans than to get on the computer and send me an email...but you never know!
What do I have planned for next summer? I'll know after my October BBC meeting when I get introduced to new programs. In the meantime, I hope you give the new Saturday night a chance. If you can't bring yourself to watch any of the new shows, remember, summer is nearly over!
Stay tuned!
Susie the TV Programmer