posted by Susie Hernandez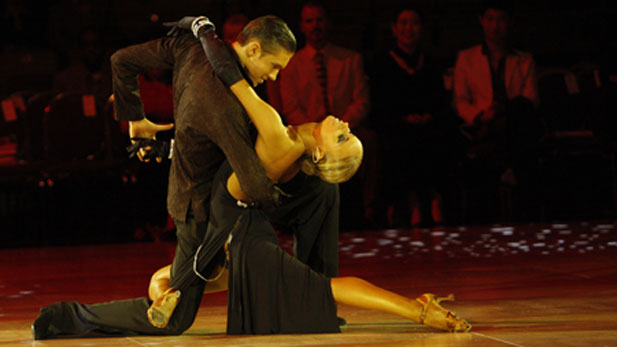 I know, this isn't the Cha Cha or the Rumba, but it's cool!
Why do we do it? Why do we put special programming on during the holidays and where is Charlie Rose? Why can't this special schedule be around more often? I've been told folks want to show off our programming to their visiting relatives, "Oh? Your PBS station doesn't air Ballykissangel every afternoon? Charlie Rose airs at WHAT time in your city?" TV is important, whether we like it or not. In fact, TV viewing can make or break a family weekend.
My strategy for the holidays has been passed down to me from generations of programmers. I'm guilty of starting it early too! We like to give people a PBS alternative to other network holiday programming. You know you won't catch a football game on PBS. Shrek the Halls will unfortunately have a lot of commercials (but cute just the same!). The kick-off for holiday programming began with the premiere of the long awaited documentary Secrets of the Divine: The Altarpiece of Ciudad Rodrigo on November 18th. BritComs provided us with many holiday specials and we started airing those specials on the 20th! Tune in on Saturdays for some hilarious Christmas specials from the BBC throughout December!
Thanksgiving Day we launch into a marathon of America's Ballroom Challenge starting off at noon with the grand finale ending at 5 PM.
T-day is also the beginning of holiday music. No groans please! Clay Aiken will by on at 5 PM, Faith Hill's Joy to the World broadcasts at 8 PM, followed by Michael McDonald at 9, and Sting's Songs from the Labyrinth at 10 PM.
Surprise! A one-hour Christmas special from Vicar of Dibley will air at 11 PM!
Black Friday we will continue with the holiday programming starting at noon,with an encore of Faith Hill and Michael McDonald. We sprinkled in BBC comedy with one of the Keeping Up Appearances Christmas Special at 2 PM and the Vicar at 2:30 PM!
Missed the special John Lennon programming earlier in the week? We are encoring Masterpiece and American Experience from 3:30 to 7 PM.
Exhausted from Thanksgiving? Relax on Friday night with Andrea Bocelli and David Foster at 8 PM. There's so much more happening all weekend. Be on the lookout for the Rockettes and other great performances.
What's to come in the new year? We've got some programming shifts ahead and I'll keep you in the loop!
Stay Tuned,
Susie the TV Programmer